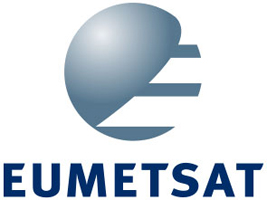 The European Organisation for the Exploitation of Meteorological Satellites (EUMETSAT) is an international organisation, founded in 1986, currently with 26 European Member States (Austria, Belgium, Croatia, Czech Republic, Denmark, Finland, France, Germany, Greece, Hungary, Ireland, Italy, Latvia, Luxembourg, the Netherlands, Norway, Poland, Portugal, Romania, Slovakia, Slovenia, Spain, Sweden, Switzerland, Turkey and the United Kingdom) and 5 Co-operating States (Bulgaria, Estonia, Iceland, Lithuania, and Serbia).
The main purpose of EUMETSAT is to deliver weather and climate-related satellite data, images and products, 24 hours a day, 365 days a year. This information is supplied to the National Meteorological Services of the organisation's Member and Cooperating States in Europe, as well as other users world-wide.
Regarding climate variability and change studies, EUMETSAT's mission is to provide satellite-based Climate Data Records over decades with the highest possible level of accuracy, reliability and stability. EUMETSAT has a long history of ensuring best product quality and timeliness for their users.
| | |
| --- | --- |
| Joerg Schulz | |
| Rob Roebeling | |
| Viju John | |